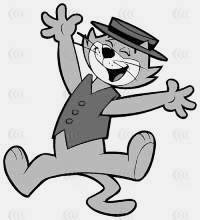 *Gillingham** Kent * * UK * * Mobile 07769606096 *
This page shows you the quality kittens, that have been born here with us. Look how they grown!! and compare them to how they were in our kitten gallery!
Iggy

Iggy at a year old. Now i hope you're sitting down as i have some shocking news. Iggy has a bit of a reputation for being laid back! I bet you would never have guessed.
Once he arrived at his new home , he watched mummy throwing his "mess" down the toilet. From that point onwards he stopped using his litter tray and did it all in the toilet!
He is also his mums' personal alarm clock, wakes her every morning at 6am whether she has work or not! Thanks to Arabella for the update.

Coco

Coco at 18 months old,
Coco is still a fiesty outgoing girl, although she's not as brave as she thought she was. The sound of an aerosol, hairdryer or hoover will have her running for the hills! Thank you Monika for the update.
Bear
Now 2 years old.
Bear is lucky enough to live with his sister Pixie, an older cat called Puck and now a new puppy called Dexter! Which he is slowly starting to trust. Bear was taken home in hope that he would be a daddies boy, unfortunatly, just like his sister, he loves his mum best...oops. Thank you Suzie and Ginge for the update!
Pixie
Now nearly 4 years old.
I am sure you will agree she a beautiful girl and looks more like the princess she was named after, as she has aged. She has the most stunning eye colour and a ruff to be proud of, even in the summer! She is described as a little Diva and she's totally a mummys girl. Leading the couple to want another Ragdoll, they have called Bear.
Tiddles
It was hoped that Tiddles would be a great companion to the families exsisting Ragdoll. It turns out he prefers the children! But then you know the old saying....Never work with children or animals lol Thank you for the update Nicky.
Fudge

Now 3 years old.
Fudge is a bit of a fussy eater, he doen't like to eat from his bowl, he scoops all his food out onto the floor and eats it there! Fudge has a new housemate, Ziggy (pictured below)
Ziggy
Now about 2 years old.
Ziggy is a very clingy cat he follows his mum everywhere! Still quite a vocal cat, but instead of a whinning meow, now he just chats as he follow Sarah round the house! Thank you Sarah for the update.
Schnizel & Margot
Their new Mum Carla was really concerned about how they would get on with her Bulldog. She took two kittens to try to "soften the blow" I think it's safe to say she needn't of worried, as you can see he's not long been there and loves his big brother. Although I'm not sure Margot is pleased about that! Thank you for the update Carla.
Spook

Spook at 3 months old, is probably the youngest in the look at us now gallery. He is actually 4 now, but I wanted to show what a differance a few weeks can make. I think you will agree our ugly duckling is now a truly beautiful swan!Thank you Charm for the photo.

Lola
Now a year old.
Lola loves chasing flies, and her older brother. Obviously after this much running around, she knows how to sleep, which she takes full advantage of! She has a great appetite and finishes her meals in seconds. Her mum says she's queen of the castle and one in a million. Thank you so much Becky for the update.
To all the owners who have helped make this page possible, Thank you so much for sharing your kittens and stories with us. This is one of the reasons I ask for a photo when your kittens are older.
Coco & Willow

Coco now 3 years is still a hairband theif, now she even steals them from drawers! She follows her mum everywhere, probably to make sure Willow isn't getting any attention. Although she does love him. She's a real little nursemaid if mum is ill, won't leave her side.
Willow wakes up purring, he's a real happy little soul and will sleep anywhere! Probably becausee he can't get a look in, he never misses the opportunity to sit on mums lap, while she on the toilet!! No privacy! Thank you so much for the update Kristiane.
Bubbles
Now a year and 4 months old.
Never misses the opportunity to greet his mum after a hards days work. He spot flies a mile away and makes sure mum knows it! along with letting her know if his litter tray needs changing. He has turned into a stunning boy. Thanks to his Owner Penny for the update.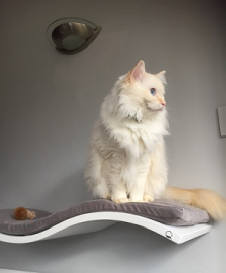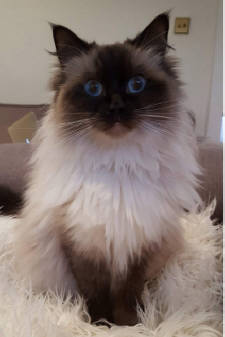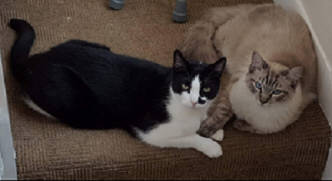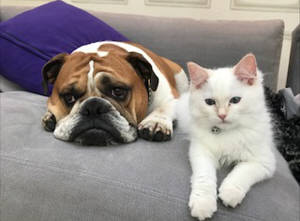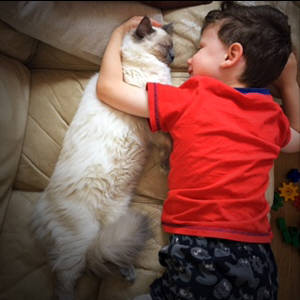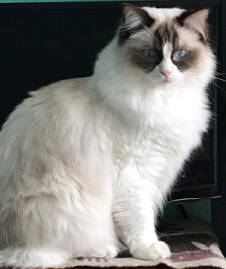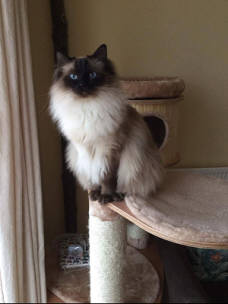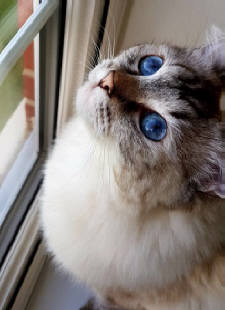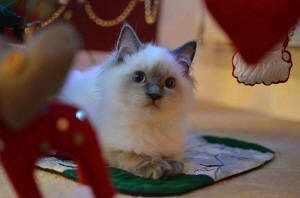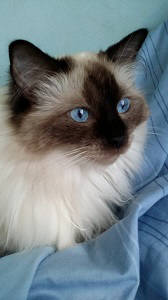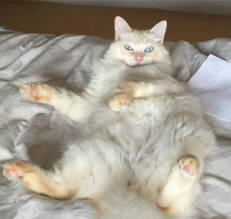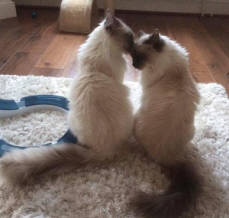 Elvis

Now 9 months old. Elvis has a bit of a thing about carrying dog chews around! It's rather strange, maybe he thinks he's a hound dog! He loves fresh water, preferably directly from the tap! Thanks to Helen for the update.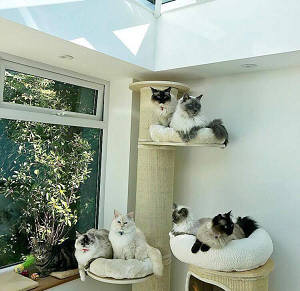 Left to right.
Tigger (On the widowsill) Elsa, Jasper, Molly, Poppy. (Top shelf) Lucy & Bailey. All of these babies are Startopcat kittens, except Tigger and we're thinking about claiming him as ours! Only kidding.

Tigger ; Crime - impersonating a Ragdoll. Punishment- a lifetime of cuddles and belly rubs!
Elsa ; Always 1st to investigate, and no cat is allowed attention if she's not getting some too. As you can see Elsa is now one of the larger cats in the group, not bad considering she's the youngest!
Jasper ; Known for he's soft and gentle ways, and a guilty look if his up to no good.
Molly ; Small but can eat treats like a horse. She's a real daddies girl and has him wrapped round her paw!
Poppy; Has always been a silent meower, until recently! Shouting for doors to be opened!


Lucy; She loves a morning cuddle, but after that, humans are mainly there to serve!
Bailey; The spokescat for them all, if he's awake, he has something to say!

Thank you so much Sanja for a photo, that I personally know was near on impossible!